How to Get More Traffic Without Creating New Content?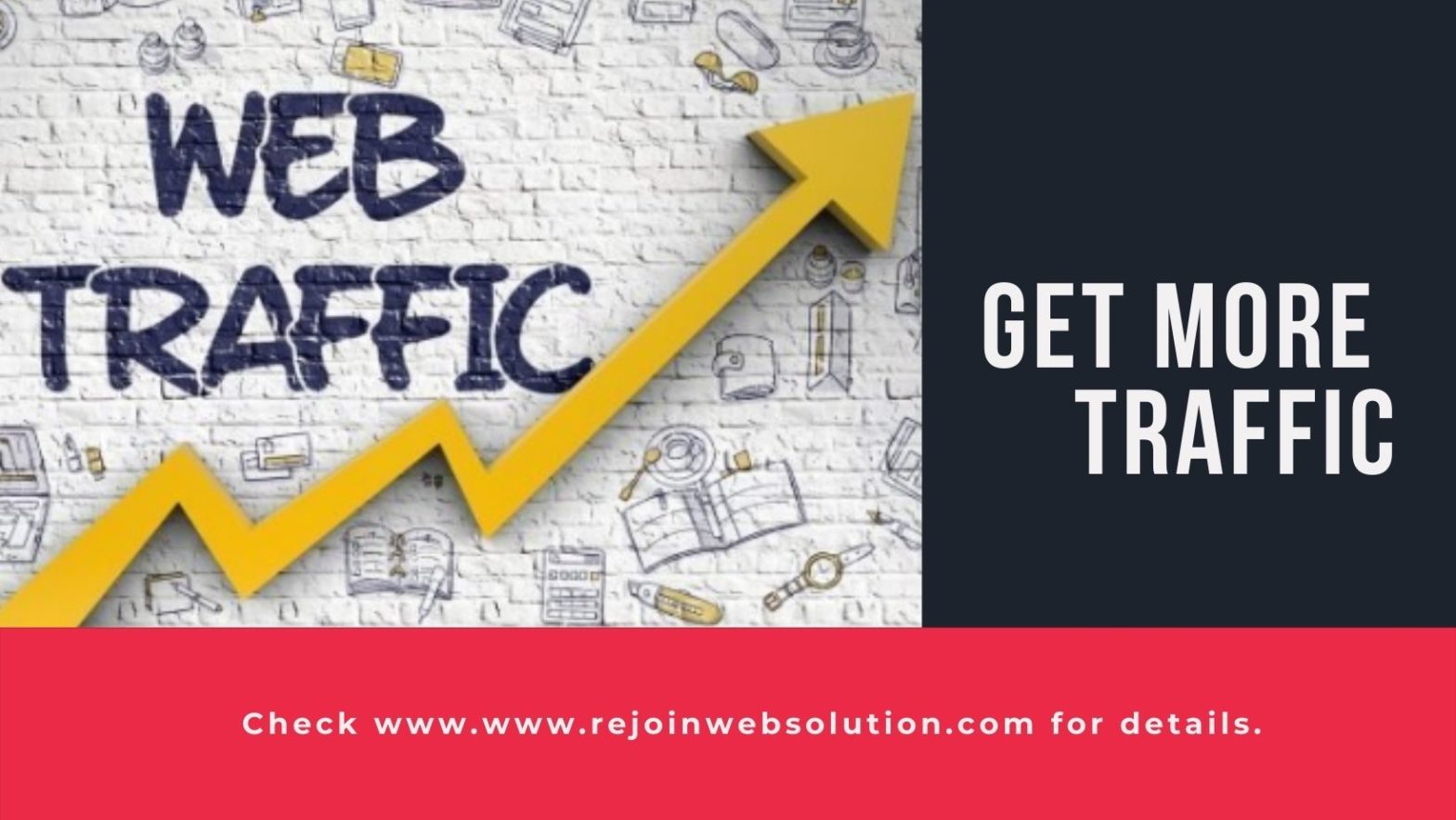 Today, let's talk about a POWERFUL way to get more traffic to your blog without creating new content.
Website traffic = Currency online
The more traffic your blog gets, the more profits you can make. Its' as simple as that.
To increase blog traffic, most people create new content.
Yes, creating new content is a good idea.
But…
What's the point of creating new content if you're NOT getting more traffic with your existing content?
That's why you should first make use of your old blog posts to get more traffic.
So how can you do that? Let's talk about a simple framework.
A 3-step framework to update your old content to get more search traffic
Step 1: Identify your top-performing blog posts
The first step is to find your top 5 to 10 blog posts that are sending you the most traffic.
You can check your Google Analytics account to easily discover your top-performing posts.
Here's how it looks like: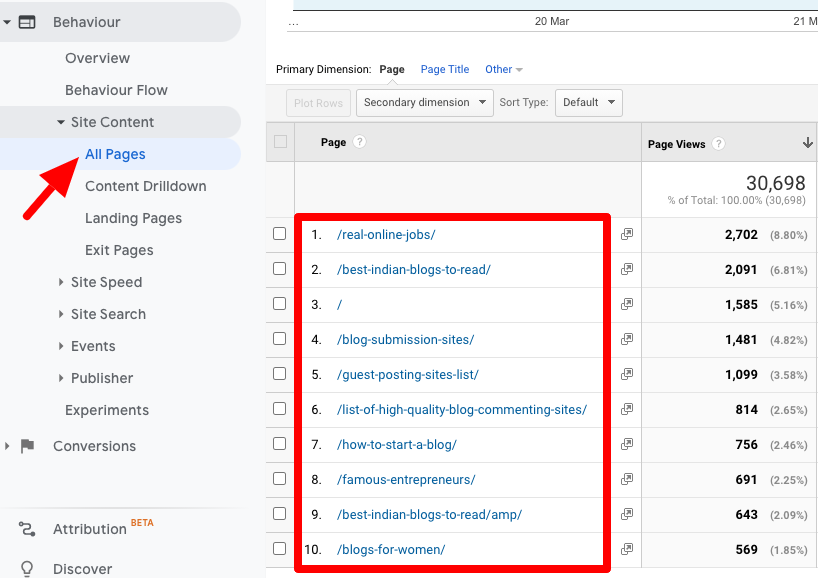 As you can see above, you can see your top 10 traffic-generating posts from Google Analytics by visiting the "All Pages" section under "Site Content".
Step 2: Do keyword research
Once you have a list of your top 5 or 10 high-traffic posts, your task is now to do keyword research.
You need to find more RELEVANT keywords so you can optimize your content to get more traffic for additional keywords.
You can search for LSI keywords or long-tail keywords that are relevant to your high-performing blog posts.
For instance, Guest posting sites list is one of our top-performing posts.
Here's how we can find more relevant keywords to optimize that post for additional traffic.
Enter the keyword "guest posting sites" in Google;
When you scroll down to the end of the Google search results page, you'll see "related searches" which looks like this;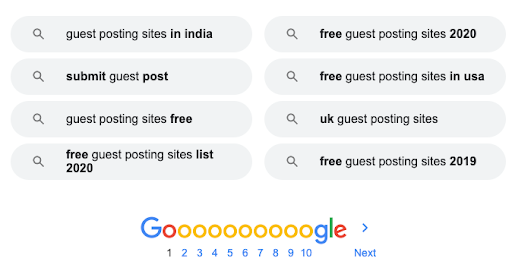 As you can see, there are enough "decent keywords" that we can use to optimize our content.
That's how you can find more relevant keywords for FREE.
If you want better results, you can go with a powerful tool like Semrush (we personally use Semrush for keyword research).
Here's how the keyword research looks like on Semrush;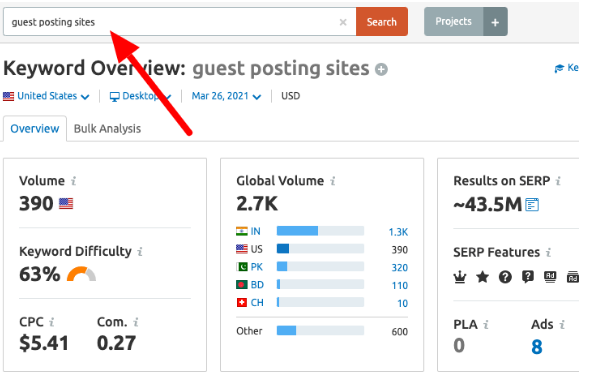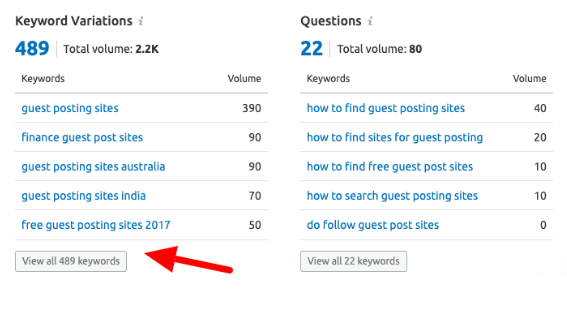 As you can see above, Semrush gives you a HUGE keyword data.
You can also click on the "View all keywords" under "Keyword Variations" to find a ton of relevant keywords.
Have a look;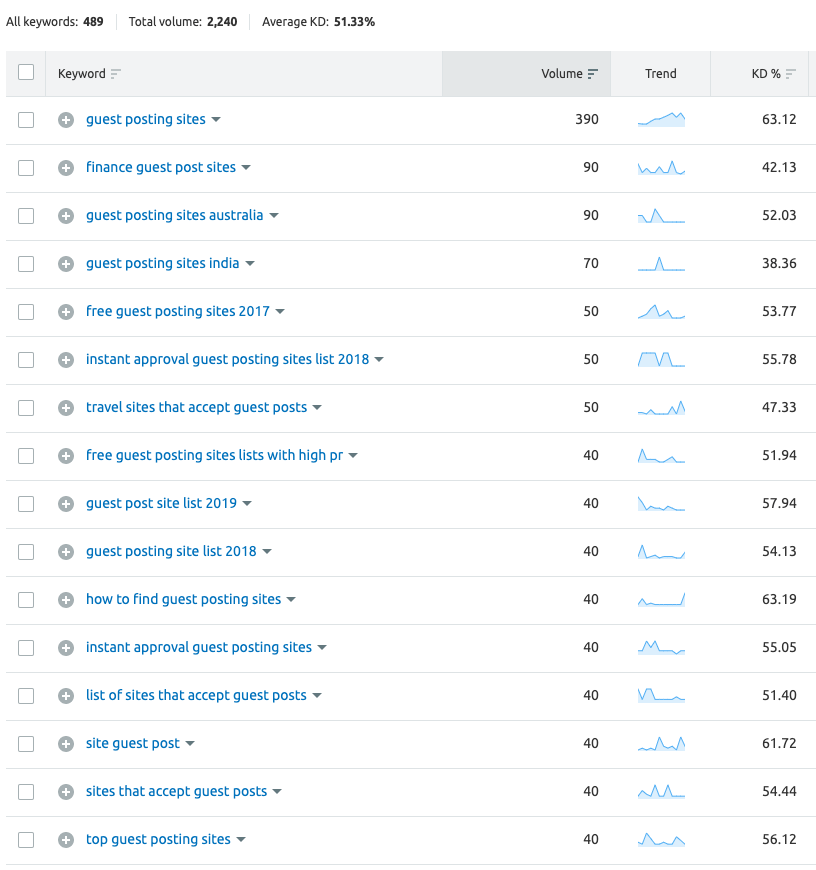 See that? Semrush is showing us 489 keyword suggestions for our example keyword.

You can't get such a huge list of keyword ideas with Google. That's why most bloggers and SEOs use tools like Semrush.

Quick note: You can try Semrush FREE for the next 30 days using this link.

Step 3: Update them with fresh content

Once you're done with the keyword research, it's time to update your existing content.

Here's a simple approach to update your old blog posts.

Update your old content with new information
Get rid of outdated information
Update your existing posts with more internal links (and get rid of links that don't add any value)
Add more appealing images
Add an FAQ section by targeting more relevant keywords
Properly restructure your whole content (by using short paragraphs, bullet points, etc)
Also, make sure to use an optimization plugin like the Rank Math SEO plugin to properly optimize your content for your target keywords.
Additionally, if you want to QUICKLY get more traffic to your existing content, you need to build more links.
In case if you're wondering about how to build quality links, read this guide.
Have any questions? Let me know by replying to this Blog.

Look for best Digital marketing agency in chandigarh ?
Hire Rejoin Web Solution Now