How WordPress Security To be Implement?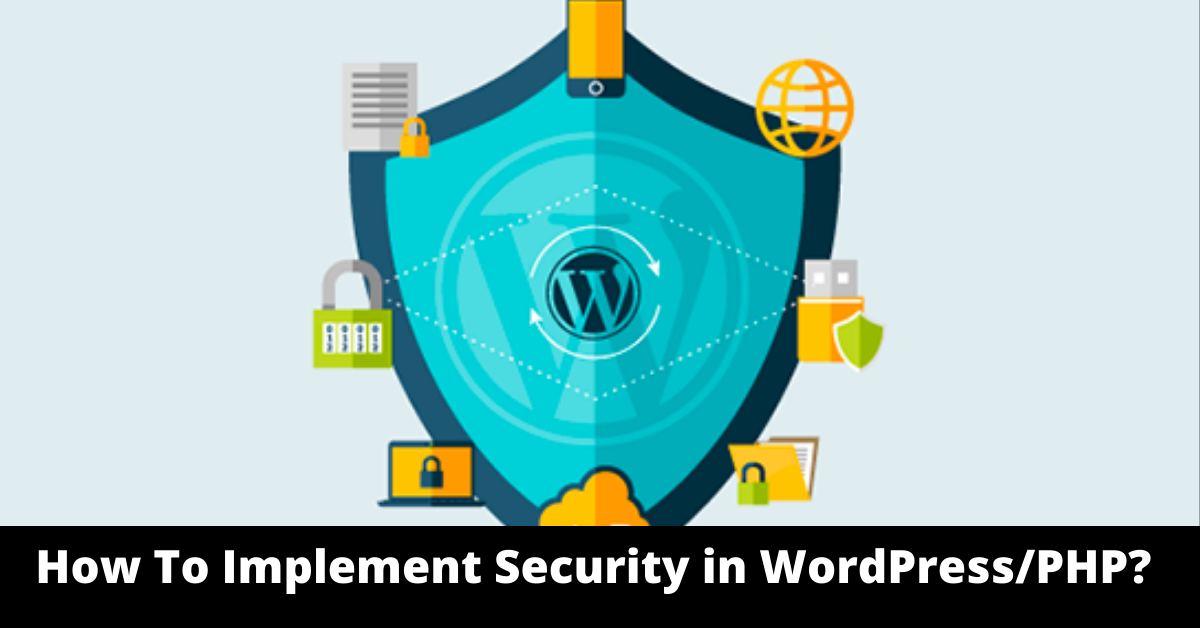 How To Implement Security in WordPress/PHP?
WordPress is one of the highly-talked about digital worlds. There are around 1 out 5 websites that use WordPress over the Internet.
Well, It is not surprising!
WordPress is a multi-site CMS, ecommerce website, or run a humble Blog. The thing is WordPress is a favorite of both newbie and experienced players.
In the meantime, a topic of WordPress security arises among webmasters. After all, it is used by a large number of websites. Thenceforth, WordPress Security holds a huge importance for every digital business.
So, I have one question for you?
Are you serious about your Website? If yes, then this reading might be interesting for you.
Do you know Google blacklists more than 10k websites daily for malware.
Therefore, every website owner must implement security in WordPress/PHP.
So, we will first understand
Why Implementation of Security is significant in WordPress/PHP?
An unsecured WordPress website is a serious hazard. It can badly affect your business revenue, and even reputation. Moreover, there is risk of user's information, and passwords. Moreover, it can also allocate malware to your audience.
Above all, the worst thing is finding you giving ransomware to hackers. And the only motive is to regain your website.
Do you know Google finds 50 million plus websites containing malware? In the meantime, Google blacklists near about 20k websites
To be concluded, If you are passionate about your website, you have to consider its security. If a website is your business, it's your responsibility to maintain its security protocols.
Thus, implementing best security protocols is crucial in WordPress/PHP.
So, what do you think? Are you considering the security protocols of your WordPress website?
If yes, then continue reading!
Effective Ways to Implement Security in Word-Press/PHP
With respect to WordPress/PHP Security, there is noticeably more than lock-down your website. So here we are going to mention effective ways to implement security in WordPress/PHP.
Let's Explore!
Investment in Effective WordPress/PHP Hosting
As we discuss, WordPress/PHP Security is much more than just lock-down. There is a web-server-stage security for which your website host is liable.
So, it is significant to choose a best host for your WordPress website. Well, it is great if you have technical knowledge, or can handle your website security via your own VPN.
In other cases, Server Hardening is a key to your security problem. It is the best key to develop a secure WordPress environment. It is a highly premium secured platform. However, it consists of multi-layered hardware, and software security. This is where; Rejoin Experts help you to implement this premium security to your WordPress website.
Apart from that, we are also using LXC and LXD for effective security.
Go with Latest PHP Version
We all heard that, "PHP is a backbone of the WordPress website." So, it's obvious that having the latest PHP version is crucial.
The concerned thing is that, "77.5% WordPress users are using old PHP versions. And these PHP versions are no longer supported!
Just think again, Which PHP Version are you using?
Do you know it has a big bad impact on your business development, and growth?
Here we at Rejoin Web Solution, only recommend you to go with the latest PHP versions i.e. 7.2, 7.4. All these versions are supported, and offer high performance. Most importantly, these are highly secured than older versions.
Always Use Mysterious Usernames, and Passwords
Surprisingly, it is one of the amazing ways to secure your WordPress/PHP website. Well, it seems easy right? But, it is a clever task.
Do you know the following are the most popular passwords used around the world?
Password
11111111
12345678
Sunshine
Iloveyou
0000000
Am I Right!
So, these passwords are easily stolen. It is the major reason, Rejoin Web Solution always recommends forces of complicated, and smart passwords.
Lockdown Your WordPress Admin
The security by Obscurity proves a highly effective way to strengthen your WordPress security.
Do you want to make it harder for hackers to hack your website?
Lock-down your Wordpress/PHP admin is a best method to strengthen your security.
Mainly, there are two ways to do that:
First, by changing the default wp-admin login, or limiting the login attempts.
Secondly, a free login lockdown plugin is the simplest way of WordPress security.
Conceal your WordPress Version
Concealing the WordPress version is another way to implement WordPress Security by obscurity.
Your Configuration would be better, when less people know your WordPress version. Do you know what will happen if they know you are using outdated WordPress versions? There is a chance of a welcome sign to intruders.
By default, your WordPress version would show on your source code. In such a situation, Our Experts recommend only an updated WordPress version.
Well, there is a premium plugin named "perfmatters" that helps you to hide your WordPress version. Even though, it will happen with just one click, and some optimizations. In case you are using WordPress 5.0 or higher, your version number will no longer be included in the files.
Recapitulation
As you can see, a number of methods to implement security in WordPress/PHP is available.
For several people, WordPress Website is a business, or earning source. So, I recommend you to opt these security practices to robust, or secure your WordPress website.
Well, if you enjoyed the above reading, I assure you will love Rejoin Web Solution's platform. So, what are you looking for? Just turbocharge your website with Rejoin Web Solution. For getting detailed insights, you can check out here.