How to Hire SEO Experts Faster? Guide and Factors to Consider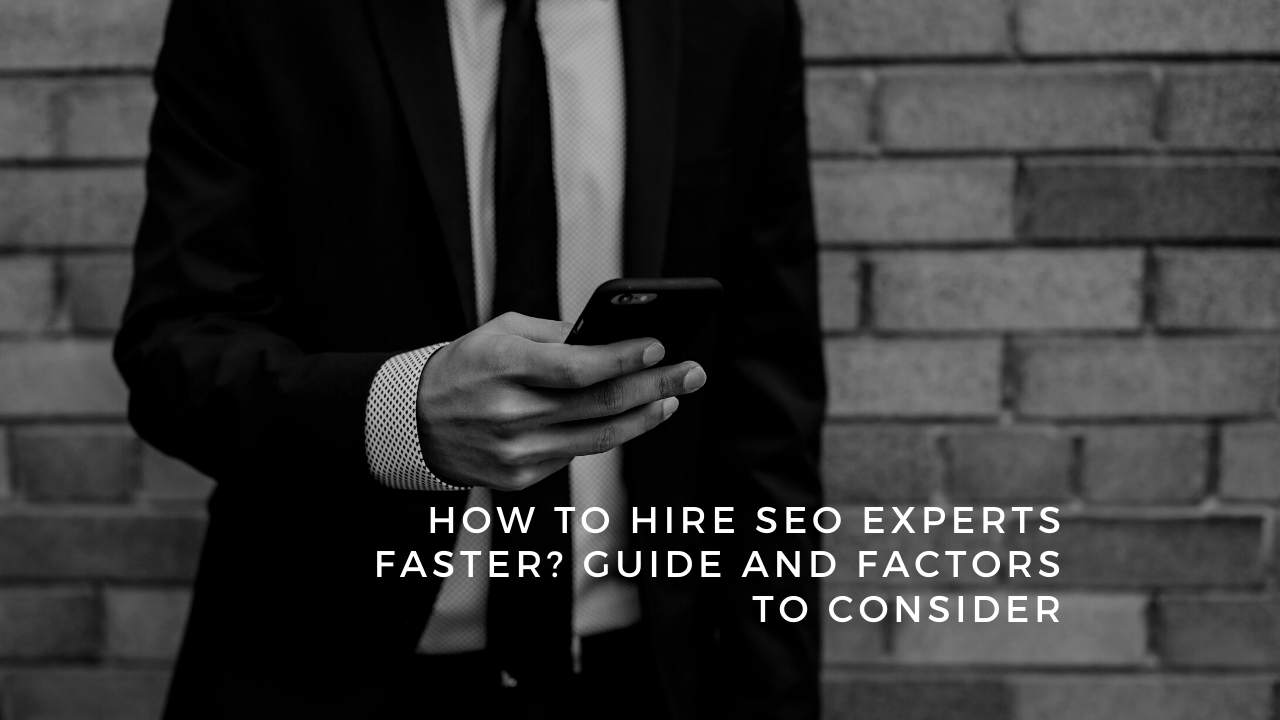 Owning a business, brand, or developing a website is not just enough to get high traffic and exposure to your website. The digital world is becoming more advanced and fast-paced where anyone can not stand-out in the top queue who doesn't have a solid hold on its online marketing solutions or strategies. At that moment, SEO Experts come into the game. In this post, you will learn;
Importance of SEO Experts 

Key Steps to Hire SEO Expert

Factors to Consider while choosing SEO Expert 

Conclusion 
With the help of SEO Experts, businesses can rank their website much faster with specific keywords. In case, you have an outdated website where you are not getting much benefit of digital presence, where an SEO Expert can assist your website to come into competition.
If you also want to know how to hire SEO Experts fastly, you don't need to concern because we are here for your help. 
Key Steps to Hire SEO Consultant
Here we have mentioned the utmost guidance to fastly hire an SEO Expert and Factors to Consider that assist you to make an ideal selection of an SEO Expert;
Learn Some Basic SEO Knowledge Yourself 
The process of hiring an SEO Expert starts with the understanding of basic SEO yourself. Well, when you have
Beginner's Guide to SEO,
you can easily analyze the quality of services offered by SEO Experts. You can also best-suited SEO Expert as per your business needs and requirements.
Explore an Experienced SEO Expert
Every Business has different requirements regarding digital marketing solutions, so SEO is not the one best-fit size for every business. For Example: if you are a small business owner and want a map listing, then you don' much need to take stress regarding high budgets of well-reputable SEO Experts, but when you have an international travel agency and you have to compete with a popular brand, then a well-experienced and professional SEO Expert performs a crucial role.
Analyze Both Solo SEO Expert and Agency 
Solo SEO Experts and agencies have worked for businesses for many years. Well, a Solo SEO Expert is one who manages the entire work on their own just like a freelancer. In contrast, an SEO agency is built with several professional personnel such as account managers, writers, strategists, and even so forth. Well, it will depend upon the workload and requirements of every business.
If you have the required knowledge of
SEO
, you can easily ask accurate and reliable questions from SEO Experts and analyze whether their skills and expertise matches your requirement or not. You can put questions like frequency of work being done, duration of reporting updates, minimum contract, charges, how they bill, and many more.
Get References and Referrals
Before finalizing an SEO Expert, one must check-out recommendations and referrals from current and past clients of the selected SEO Experts. In this way, you can check your selected SEO Expert's performance and discipline regarding their work.
After performing all the above-mentioned steps, one can pick the best-suited SEO Expert for business and commit to them as per your company's terms and conditions. 
Factors to Consider While Choosing an SEO Expert 
Choose the best Solo SEO Expert or Company:

One must first clear the vision and analyze the difference between a solo SEO Expert and SEO Agency. Additionally, it depends upon your requirements regarding projects and what SEO services you want. Accordingly, you can choose the best option for your business.
Prepare a List:

Before finalizing any decision to hire an SEO Expert, one must make a list of all activities you are doing in digital marketing. 
Ask them about their working style and Methods:

You must have deep communication with SEO Experts to know how they deal with your requirements and what is their working style or methods. It helps you to analyze how effectively they analyze and deal with your project. 
Cost of Service:

Well, the worth of the business can not be analyzed by its pricing structure. Every company has its custom-defined budget for SEO services and you choose the one that perfectly fits your budget. 
Examine their Website:

One must analyze the personal website of an SEO Expert and its ranking on search engines. You can analyze their readability and relevance of their website. It can help you to determine their proficiency in work.  
Conclusion 
On the whole, these were a few of the key steps that help you to choose an ideal SEO Expert for your business and bless your business with the advanced techniques and proficiency of the best SEO Expert. We hope the above-mentioned information will help you to make an ideal choice of the best SEO Expert.