How to do Social Media Optimization?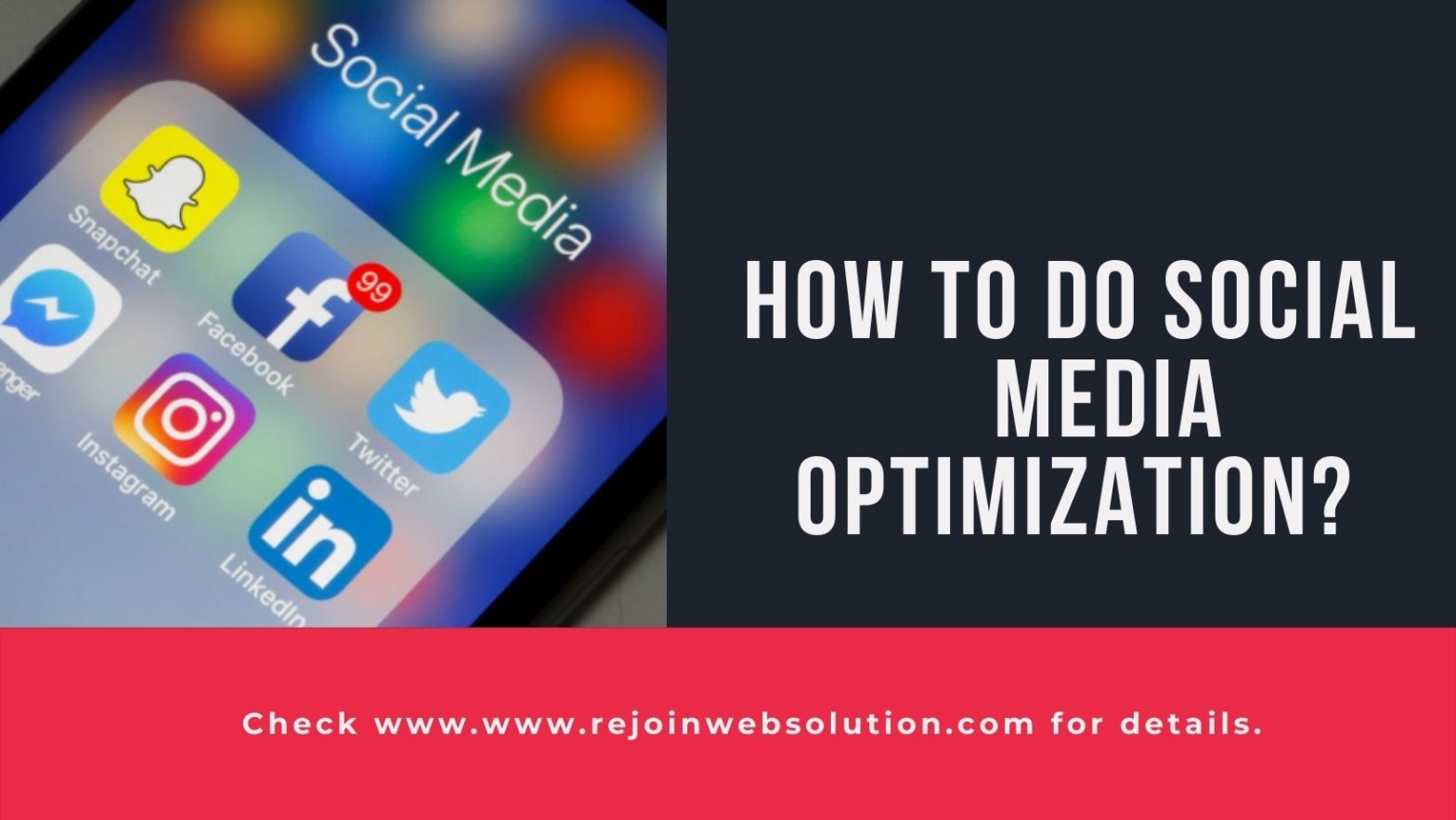 We all know that Digital Marketing is all about reaching targeted audiences of businesses via varied digital channels. Social Media is one of the fast-growing channels of digital marketing that delivers incredible marketing benefits to help business brands reach millions of potential customers across the whole world. However, Social media becomes an integral part of the digital space as it is considered as a cost-effective mode to boost brand awareness and promote your products and services at a global stage.
Several companies are utilizing social media to promote their products and services at the global stage. Well, it is significant for them to optimize their social media profiles for generating best results. Social Media Optimization acts as a crucial role in improving your social projects to generate high leads and high conversion rates for your business.
Introduction to Social Media Optimization
Social Media Optimization (SMO) is a process involving usage of social media networks to handle and develop a company's message and digital presence. From the digital marketing point of view, Social media optimization is highly useful to boost brand awareness of new products and services and connect with a higher audience. Several social media platforms are used in digital marketing strategies such as Instagram, YouTube, Facebook, Pinterest, and Snapchat.
Key Tips To Perform Social Media Optimization
For the optimization of your social media channels, you are required to come-up with an SMO plan and execute that plan. In case, you do not know the steps to optimize your social media, here we have mentioned key tips that will help you to easily optimize your social media channels.
Also Read : Which is the Best Digital Marketing Agency in Chandigarh?
Scrutinize your Targeted Audience
One must make a selection of accurate social media platforms to focus on where your targeted audience is present most often. However, it is also a great idea to check-out the current social media engagement and choose the most favorable one where most often the audience wants to be.
Secondly, you have to do competitive analysis to figure-out how your business stacks up over your competitor. You can also analyze how much social media engagement they see versus you? Analyze What sort of social media content and strategies are working for industry leaders or your competitors? To perform this step, the Content Exploration Tool of your Alexa Advanced Account will prove helpful for you. This tool will easily provide you with which of their content gains high engagement.
Build a Strategy as per Findings
When you perfectly understand your audience as well as the strategic moves of your competitors, now it's time to build a straightforward strategy that assists you to reach-out goals. Well,a strategy is a cornerstone of SMO, but 30% of businesses believe without having a strategy is a top complication for a social business.
Execution of your Strategy
Solely forming a strategy is useless without its execution. Well, a strategy will proceed by SEO experts, Content marketers and other team members by working closely and making the vision come true. As we know, SMO is closely working with SEO, so their teams work together and ensure that goal will effectively be achieved.
Analyze Results and then Adjust Accordingly
Once the strategy has been successfully executed, it is significant to analyze the results and make the adjustments accordingly. In your first strategy, you must outline how often you will check-out your results that helps you to analyze the exact timeframe.
Significance of Social Media Optimization Tools
One must choose the right social media optimization tools to achieve your dreams. Well, you will find a number of social media optimization tools that can assist you to effectively optimize your social media profiles. Here are some of the well-proven SMO tools given below:
Social Media, Audience Research and Search tools include Alexa.
Image Creation tools include PicMonkey and Canva.
Social Media Scheduling Services like MeetEdger, Later, Buffer and Sprout Social.
Marketing Automation tools include Salesforce, Marketo and HubSpot.
Conclusion
Consequently, Social Media is considered as an essential pillar of any effective marketing strategy. In case, you want to ensure you are performing well or getting most out of your projects, Social media optimization will prove helpful for you. Perfect Optimization of your project will help you to boost your brand value and drive maximum number of leads for your business. We hope you might get useful information from the above-mentioned reading regarding Social media optimization and get most out of it.   

Looking for the Best Digital Marketing Agency In Chandigarh ?
Hire Rejoin Web Solution Now